Winter-Spring 2011 (tillbakablick)



Här kommer ett superlångt inlägg som sammanfattar början på det här året.
Vi börjar med Januari.
/ Here's a gigantic post about the first 6 months of this past year. Let's start with January.
Jag var ute och sprang byxlös i snön. / I was running around pantless in the snow.
Hängde för det mesta i det dåvarande kollektivet. / I spent most of my time in the collective.
Vi målade en hel del, bland annat dekorerade vi skrymslet. / We did a lot of drawing, for example we decorated the walls.
I början av februari blev jag fotograferad av båda de duktiga
Amanda
och
Beata.
/ In the beginning of February I was photographed by both Amanda and Beata.
Målandet verkade fortsätta i kollektivet. Jag fyllde 17 också förresten! / The painting seemed to continue in the collective. I also turned 17 in February!
Gjorde min första papier machéfigur och chokladbollar med grannen. / I created my first papier maché sculpture and some chocholate balls with my neighbor.
I Mars smälte snön och solen återvände! / In march the snow melted and the sun came back.
Träffade Pikashu och diverse superhjältar. / I met Pikachu and some other superheroes.
Hängde en del i Trädgårdsföreningen också. Palmhuset är bäst. / I spent some time in the garden society park too.
I april var jag såhär badass. / In april I was this badass.
Jag fotograferade ett band vid havet. / I took photos of a band by the sea.
Jag åkte på en fantastisk resa till Tallinn i Estland och hjälpte till på ett barnhem. / I went on an amazing trip to Tallinn in Estonia and helped out on an orphanage.
Åt påskmiddag hos Elvira-Modesty också. / I had easter dinner at Elvira-Modesty's place.
I maj var det supervarmt. Jag drack en del kaffe med min bror. / In May it was really warm. I had a lot of coffee with my brother.
Det var vårstädat hos Donny och de andra, men vi var mest utomhus. / The spring cleaning was all done at Donny's apartment, but we spent most of our time outdoors.
Massproducerade såna här filurer. / I mass produced these little fellas.
Och tog mitt första dopp! Sedan åkte jag till Amerika men det kommer i del två av detta återblicksinlägg. / And I had my first swim in the ocean! Then I went to America but I'll show all that in part 2.
---
Jan Lööf & Beatleskväll.
För ett par dagar sedan var jag på göteborgs konstmuseum. / A couple of days ago I visited the Gothenburg art museum.
Det är en utställning med Jan Lööf där Han gjorde t.ex. skrotnisse och en massa andra på 70-talsbarngrejer.
/ I went to an exhibition by Jan Lööf. He made a lof of famous books and tv shows for kids during the 70's.
Jag har alltid älskat hans bilder / I've always loved his illustrations.
De hade orginalprylarna från inspelningen av skrotnisse. Fräckt. / They had the original pieces from the tv show "skrotnisse". Awesome.
Sedan var det dags för beatleskvällen!  / Yesterday we had the beatles night!
Vi åt en hel del frukt och lyssnade på i alla fall fyra hela beatlesalbum.
/ We ate a whole lot of fruit and listened to at least 4 full albums.
Vi spelade galenpanna och diverse musikgissningslekar. / We played this game where you try to guess who you are through yes/no questions, and a couple of music quizzes.
Sedan var frukten slut och vi sa godnatt! / Later, we were all out of fruit and said goodnight.
---
Snön då?
Det är lite mörkt utan snön ändå väl? Ångrar nästan att jag önskade bort snö till vintern hela året. Bilderna här är tagna exakt idag förra året. Ikväll är det Beatleskväll med Mari & Minea. A hard day's night. Mer om det när den är klar.
Här får ni en låt med Trader Horne också: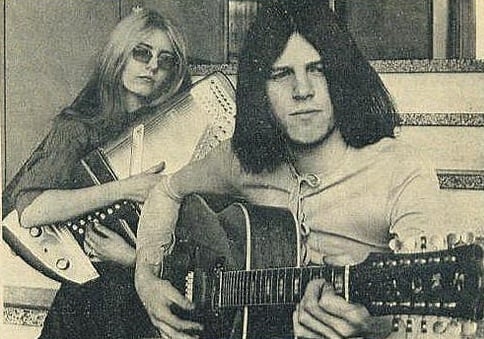 /
It's a bit dark outside without the snow, right? I almost regret that I wished for a snow free winter all year. Those photos are taken exactly this day last year. Tonight it's Beatles night with Mari & Minea. A hard day's night. More about that tomorrow, I guess. There's a song by Trader Horne above, too. They were cool.
---
gladeligen slösad tid
Lite kludd jag kluddat! / Some doodles I doodled.
---
Christmas eve.
Våran fantastiska plastgran med den traditionella julindiern är nu på plats. / My christmas eve outfit, our perfect plastic christmas tree and the traditional indian man.
Lite annat traditionellt julpynt. / Some other traditional christmas things.
Lite traditionellt julfirande hos släkten, t.ex. åka traktor kring granen.

/ Some christmas partying with my cousins, tractoring around the christmas tree.
Efter 100 kilo julmat kom tomten! / After eating tons of christmas food Santa showed up!
Resten av kvällen spenderade vi med att titta på disney framför elden. Har ni haft en god jul? / And the rest of the night we spent watching disney in front of the fireplace. Did you have a merry christmas?
P.S.
Fick en jättefin japansk 70-talsgitarr, en randig pyjamas och en livevinyl med White Stripes.
/ I got a really nice japanese 70's guitar, a striped pyjamas and a live record (vinyl) with White Stripes.
D.S.
---
White Christmas
En liten julhälsning från mig och min bror! / A little christmas song from me and my brother!
---
Christmas in summers clothing (california dreamin')
Idag strosade jag runt hemma i sammetsmagtröja och sommarskor (finns på lb
här
).
/ Today I wore a velvet crop top and summer shoes at home (it's on lookbook here).
Min prylsamling och lite mig. Här är en bra låt med pixies:
/ My collected things, a little bit of me and a great song (by pixies).
---
An orange box
Idag second hand-fyndande jag en orange liten plastlåda.
/ Today I found this second hand treasure, a tiny orange box.
Fylld av en vinylspelare! En bärbar som går på batterier om man vill. /...Filled with a record player! (and I can carry it around with me everywhere since it works on batteries and looks like a bag!)
Så jag satt vid min orgel, julgran och jordglob och lyssnade på Sgt. Pepper's Lonely Heart Club Band. / So I sat by my organ, my christmas tree and my globe, listening to Sgt. Pepper's Lonely Heart Club Band.
---
Jul på systrarna på kullen.
Systrarna på kullen hade julmarknad så jag svängde förbi. Juligt. / The sisters on the hill had a christmas market so I came by. Very christmassy.
Jag åt en räkmacka på cafét också. / I had a shrimp sandwich at the café.
Vill ha den här glada tekoppkannan. / I want this happy teacup/pot.
Sedan blåste kjolen nästan iväg och jag gick hem. / Then my skirt was amost blown away and I walked home again.
---
Konstepidemin, katter och figurer.
Jag byggde en till figur och placerade den på en högtalare i min pojkväns lägenhet. / I built one more of those little fellas and placed it on a speaker in my boyfriends apartment.
Jag har gått på en liten konstkurs i det här huset på konstepidemin i Göteborg. De hade julutställningar så vi var med med några grejer. / I've been to an art course at this place ("the epidemic of art") in Gothenburg. They had a chistmas open house so we had a couple of things exhibited.
Lite teckningar (vi målade av modell). / Some drawings (we painted looking at a model).
Här är en bild av en bild när jag sitter och håller upp gips. Vi byggde en spökvärld av lakan och gipspulver. / Here's a photo of a photo when I'm holding plaster. We built a ghost world made of sheets and plaster.
Spökvärlden! / The ghost world!
Sedan gick jag runt i några ateljéer. Den här killen heter
Roland Borén
och gör jätteluriga skupturer. Jag gillar idén med att bygga "KILOMETERHÖGA!" skyskrapor vid Götaälvbron.
/ Then I went to see some open studios. This artist is called Roland Borén and he makes really tricky sculptures. I like the idea of bultid "MILES HIGH!" skyscrapers by that bridge.
Sedan kramade jag en katt och Harry var glad. Slut på början av helgen! / Then I hugged a cat and Harry was happy. The end of the beginning of the weekend!
---