NEON!
Jag fick ett litet ryck och färgade mitt hår lika neonorange som Leeloo Dallas "Multipass". Är nöjd. Förlåt om jag inte laddar upp här så mycket men jag fotograferar mest analogt för stunden!
/ I spontaneously dyed my hair neon orange like Leeloo Dallas "Multipass". I'm content. Sorry if I'm bad at updating here at the moment, but right now I mostly photograph with my analog film camera.
---
Summer-Fall 2011 (tillbakablick)
Jag pangstartade min sommar 2011 med att åka till Amerika själv. Jag var först i New York, sedan åkte jag, Tondra & Jeff till New Mexico och hälsade på en fotograf och en konstnär.
/ I kick started my summer 2011 with going to America myself. First I went to New York, then Tondra & Jeff took me to New Mexico. We visited a photographer and an artist.
När jag kom hem till Sverige delade jag med mig av Amerikanska prylar, / When I came home to sweden I shared my american souvenires,
...byggde i papier maché, / ... made papier maché things,
...Och var senapsgul. / ...And wore mustard-yellow clothing.
Jag och Donny var ute och vandrade en del och hittade bland annat ett hjul, en plastkniv, en ödla och ett tivoli. / Donny and I were outdoors walking around a lot and we found among other things a wheel, a plastic knife, a lizard and carneval.
Jag var på Pilane skulpturfält. / I went to the Pilane Sculpture park.
Och till Wanås, en annan skulpturpark som ligger i Skåne. / And Wanås, another sculpture park.
Sedan blidde det höst och skolan började igen. Var med Mari på konstmuseet! / Then the fall came and I went back to school. I went to the art museum with Mari!
Assisterade på en filminspelning där vi låtsashängde en kille. / I assisted at a film production where we fake-hung an actor.
Klippte av mig mitt hår och fick en kattbebis, Soma. Nu är hon supertuff och stor. / I cut my hair of and got a baby cat. Nowadays she's bigger and really tough.
I höstas åkte jag till New York igen för att träffa släkten. / This fall I went to New York again to meet my relatives.
På halloween blev vi totalt insnöade utan el och fick leva med tända ljus. / On halloween we were totally snowbound without power. We had to live in candle light.
Men vi kunde åka in till stan till Halloweenparaden i alla fall. / But we made it in to the city to the Halloween parade anyways.
Jag blev kär i Williamsburg på Brooklyn, som sig bör. Nu är det ju en del år kvar, men det var så nyss ni såg det så jag struntar i de sista månaderna.
/ I fell in love with Williamsburg on Brooklyn as I thought I would. There is some time of the year of 2011 left to show, but you saw that stuff such a short time ago so I wont bore you with that
---
Answers
Hur gammal är du och var bor du?
Jag fyller 18 om en månad (den nionde februari) så nu är inne jag på mina sista 17-åriga dagar. Jag bor i en liten ort ca en halvtimma norr om Göteborg, så jag går i skolan och hänger mest i Göteborg.
Jag undrar hur du brukar redigera dina bilder, du får jämt ett så himla fint ljus i dem nämligen.
Jag fotograferar mina  bilder i RAW-format, vilket innebär att t.ex. exponeringen och vitbalansen inte är skrivna direkt på bilden och går att ändra i efterhand. När jag laddar in mina bilder i datorn ser det ut såhär:
Där kan jag ändra kontrast, exponering, skärpa etc. Där brukar jag också göra mina bilder lite varmare och gulare i tonen vilket skapar en del av det "ljuset" som är i mina bilder. Sedan är det också mycket övning i att välja rätt när man är på plats och tar bilden, för att få rätt ljus.
Vad lyssnar du på för musik?
När det gäller genre så lyssnar jag på det mesta. Inte så mycket elektroniskt nuförtiden dock. Jag är också lite allergisk mot indiepopen som kommer ut idag - allting låter likadant! Jag lyssnar mycket på 70-talsmusik. Allting från The Doors till Joni Mitchell. En del folk & anti-folk, typ Kimya Dawson & Beck. Andra favoriter är Bright Eyes, Daniel Johnston, Pixies, Tom Waits & allt som Jack White varit med och petat på.
Beck!
Vad använder du för kamera och vad har du för objektiv?
Jag använder en Canon 7D och använder ett 50mm 1.4 och ett 25mm 2.8 som objektiv. De är superbra. Att skaffa fasta objektiv (alltså såna som man inte kan zooma med) med en stor bländare (en låg siffra på värdet "någonting punkt någonting", t.ex. 1.8) är ett tips till alla som fotograferar folk, prylar och vardagligheter. De bilderna blir väldigt snygga då!
Vad har du planerat för framtiden? Yrkesmässigt och så.
Jag har inga glasklara planer. Jag pluggar musikproduktion på gymnasiet men det hade jag inte tänkt fortsätta med. Jag funderar allra mest på att gå på någon sorts marknadsföring eller art direction-skola efteråt och jobba med det. Men vem vet vart jag hamnar!
Är du vänster eller höger?
Jag är superdålig på politik så jag ska inte riktigt uttala mig, haha. Men mer vänster än höger är jag, i alla fall i mina värderingar.
Tror du att Obama blir omvald?
Jag hoppas det! De andra kandidaterna verkar vara lite lagom dumma i huvudet, alla på varsitt sätt.
Har namnet Mrs Wolf något med Patrick Wolf att göra?
Ja! Det har allt med Patrick att göra. Jag älskade honom innerligt när jag var kring 14 år, och hette det på bilddagboken när det begav sig. Sedan skaffade jag den domänen på blogg.se också och så har det hängt i. Lyssnar inte särskilt mycket på Patrick längre men mrswolf får vara kvar.
Röker du?
Icke! Har aldrig börjat vilket känns som det smartaste draget.
Var vill du åka mest i hela världen?
Det senaste har jag drömt väldigt mycket om att åka till San Francisco. Jag blev kär i öknen när jag var i New Mexico, och i San Fran finns det både storstad och hav + öken. Bäst.
Varför åker du till New York så ofta? Har du släktingar där?
Japp! Utöver att jag älskar New York City har jag en stor familj som jag är släkt med där, plus en del vänner. Så det är dessa jag hälsar på.
Are you on a diet? What do you like to eat? What do you eat usually and how often (I mean during a random day)?
I'm probably on the opposite of a diet. I always eat exactly what I feel like and that is a lot of goodies and cookies and fast food. But on a usual day I eat eggs for breakfast, my schools lunch (which is very healthy), and then I often have some coffee and cookies until I eat dinner at night. I love fish! And sushi. It's the best.
Om man får vara lite fördomsfull och placera folk i stereotyper: vilken typ av killar gillar du mest och varför?
Hm. Eftersom jag gillar min pojkvän har det ju blivit att hans egenskaper är de jag gillar hos dudes, men om man bortser från det så gillar jag folk som är smarta och kreativa och gillar att skapa grejer, konst eller musik eller vad som helst. Och som har mycket att prata om. Ska man vara ytlig har jag en grej för långhåriga killar (skaffa långt hår allihopa).
I don't know if you have already answered this question, but what kind of camera do you use? Really love the color of your pictures!
Thanks! I use a Canon 7D, with a 50 mm 1.4 lens and a 24 mm 2.8 lens. It's great!
Vilken är din bästa affär i Göteborg? för visst är det väl där du bor?
Jag gillar Göteborgs konstmuseums butik för där finns det en massa konst och fotoböcker, småprylar och magasin. Men jag antar att du pratar om kläder, och då har jag en favorit som heter Reggie and Friends som ligger på nordhemsgatan i Linnéstan. Det är en liten vintagebutik med fräcka grejer. Är sällan där dock.
Ifall man vill ta bra fotografier och investera i en kamera, har du något tips? Jag minns att du skrev att du fotograferar i RAW, men vad innebär det? Funkar det för alla kameror?
(Jag skrev lite högre upp vad raw innebär). Raw finns på de flesta systemkameror och småkameror som säljs nu. Man kan ställa in det på någon meny om bildformat någonstans djupt inne i alla kameror. Om man ska fota i raw behöver man också ett program i datorn som kan hantera raw-format. Det finns med i t.ex. photoshop-programmen. Man sparar mycket på kvaliteten och kan rädda många foton med att fotografera i raw istället för jpeg!
Var köper man vinylskivor på bästa sätt i göteborg? Och var fikar man bäst?
Det finns en hel del vinylaffärer på andra långgatan i Göteborg som är bra. Sedan finns det en som heter vinylkjellarn i Vasastan också. Jag brukar alltid hamna på Le Pain Francais (en kedja) i Göteborg när jag ska fika. Annars är jag nog ett rädd dåligt omdöme, för jag går bara dit man får påtår på kaffet (t.ex. fröken olssons, det är rätt mysigt med). Många bra caféer ligger inte mitt i stan utan i majorna eller på norra älvstranden på hisingen också.
Vill du flytta till USA när du blir stor?
Jag vet inte riktigt vart jag vill bo men jag hade gärna hamnat i USA. I alla fall ett tag. Bort från Sverige tänkte jag fara i alla fall.
PS. Du är verkligen gjord i världens finaste färgnyans. Vill också vara rödhårig på riktigt... Kram!
PS. Är inte rödhårig på riktigt! Jag är mörkblond men har tonat det väldigt länge. Kram! DS.
What is the symbol in the boys forehead (in the new years eve entry)?
I'm sorry if that's offensive to anyone. The symbol itself doesn't mean anything, although it looks like some kind of lara croft/svastika/da vincy code-ish thing. The story is just that Harry fell asleep before midnight on new years eve and were punished with scribbling on his face.
Vart är din favoritplats i hela världen och varför?
Det vet jag inte riktigt ännu. Får komma fram till det i framtiden! Men gissningsvis en hemtrevlig stad eller en behaglig plats i naturen med bra människor omkring. Jag är gladast när jag vandrar runt på gatorna i New York City, hittills!
Vad gör dig lycklig?
Många olika grejer! Jag kan bli lycklig över att få klappa på diverse djur, dricka gott kaffe, och se inspirerande eller vackra platser, människor eller konst. Blir alltid lycklig när jag själv lyckats ta en bra bild eller måla en bra tavla etc. också. Min pojkvän är nog dock bäst på att göra mig lycklig. Greeeatttt.
Jeg synes hele livet ditt virker så interessant! Kan du ta en slags oppsummering om barndom, ungdomstid, hvor du har bodd og hvor du har vært og sånn?
Hm. Det är nog inte superspännande! Men jag är född i Göteborg och uppväxt i en liten ort precis vid havet norr om stan. När jag var liten hängde jag i naturen eller vid vattnet hela tiden, resten av tiden massproducerade jag akvarelltavlor. När jag var 11 började jag fotografera också och det har jag ju hållt på med sedan dess. Jag har alltid gillat konst.
Vid 12 års ålder åkte jag på popkollo (ett musikläger för tjejer) och där träffade jag en massa tuffa äldre tjejer från stan som gillade helt ny musik och både uppförde sig och klädde sig annorlunda från alla i min ganska enformiga ort. Så det formade nog också mig. Jag ägnade all min högstadietid åt att fota och lyssna på musik och hänga med ett par få likasinnade här i byn.
Färgglad 12-åring.
På ett annat popkollo, när jag var 14, träffade jag min bästa kompis Elvira som bor i Göteborg och vi började göra allt tillsammans. När jag var 15, vintern 2009, träffade jag Donny, och vi har mer eller mindre varit tillsammans sedan dess. De är mina favoritpersoner i livet måste jag säga.
2010 började jag gymnasiet tillsammans med Elvira. Vi går musikproduktion, för när vi valde gymnasium hade vi ett band tillsammans som spelade elektronisk musik.
2008 åkte jag till USA första gången, och träffade min släkt där. Sedan dess har jag varit där ganska många gånger. Där vill jag hamna någon gång. Jag åkte till New Mexico i södra USA och sedan dess har jag fått ett omättat sug av att åka till nya platser i världen hela tiden.
That's about it.
Berätta om din skolgång?
Min skolgång har alltid varit helt okej. Jag började förskolan på exakt samma skola som jag sedan gick ur nian i, och det var såklart lite jobbigt att behöva förändras och växa tillsammans med samma 60 personer som var i ens årskurs under 10 år. Jag har varit lite excentrisk jämfört med många i min ort, på olika sätt, under hela tiden, men jag har aldrig varit ensam med det. Jag har aldrig haft svårt för skolan heller, snarare har jag varit uttråkad och rastlös för att det varit för lätt. I åttan och nian umgicks jag väldigt mycket med vänner i Göteborg, och jag gick i skolan här hemma fortfarande, det var ganska jobbigt. Jag njuter fortfarande varje gång jag sätter mig på bussen och far in till stan nu när jag går på gymnasiet.
Do you prefer to be alone or do you rather spend your time with people around you?
I love spending time with people around me, but if I must do it for a long time it has to be pretty calm people that I know well. I get very tired from being social to people I don't know perfectly, if it's for more than a couple of hours, haha. At home I'm always sitting in my room reading or drawing and just spending time with myself, which is something I need to do too.
Så! Jag hoppas ni är nöjda med det här. Annars får ni fråga mer så svarar jag till er personligen. Tack för alla snälla kommentarer förresten!
/ I can't possibly translate all this but some questions are answered in english. Just ask me to translate or put it in google translate (it's quite fun how it turns out) otherwise. Thanks for all the nice comments!
---
Questions?
Hey babies. Jag tänkte bara fråga om ni har några frågor för jag tycker det är så kul att svara på sånt. Plus att det var ett år sedan sist ni fick chansen! Så kör hårt. Del två i 2011-inlägget kommer snart också.
/
I wast just going to ask you if you had any questions to ask (since I think it's so much fun answering that stuff). Plus that it was one year ago that I did this the last time. So go wild. Part two if the 2011-entry is coming soon, too.
---
Winter-Spring 2011 (tillbakablick)



Här kommer ett superlångt inlägg som sammanfattar början på det här året.
Vi börjar med Januari.
/ Here's a gigantic post about the first 6 months of this past year. Let's start with January.
Jag var ute och sprang byxlös i snön. / I was running around pantless in the snow.
Hängde för det mesta i det dåvarande kollektivet. / I spent most of my time in the collective.
Vi målade en hel del, bland annat dekorerade vi skrymslet. / We did a lot of drawing, for example we decorated the walls.
I början av februari blev jag fotograferad av båda de duktiga
Amanda
och
Beata.
/ In the beginning of February I was photographed by both Amanda and Beata.
Målandet verkade fortsätta i kollektivet. Jag fyllde 17 också förresten! / The painting seemed to continue in the collective. I also turned 17 in February!
Gjorde min första papier machéfigur och chokladbollar med grannen. / I created my first papier maché sculpture and some chocholate balls with my neighbor.
I Mars smälte snön och solen återvände! / In march the snow melted and the sun came back.
Träffade Pikashu och diverse superhjältar. / I met Pikachu and some other superheroes.
Hängde en del i Trädgårdsföreningen också. Palmhuset är bäst. / I spent some time in the garden society park too.
I april var jag såhär badass. / In april I was this badass.
Jag fotograferade ett band vid havet. / I took photos of a band by the sea.
Jag åkte på en fantastisk resa till Tallinn i Estland och hjälpte till på ett barnhem. / I went on an amazing trip to Tallinn in Estonia and helped out on an orphanage.
Åt påskmiddag hos Elvira-Modesty också. / I had easter dinner at Elvira-Modesty's place.
I maj var det supervarmt. Jag drack en del kaffe med min bror. / In May it was really warm. I had a lot of coffee with my brother.
Det var vårstädat hos Donny och de andra, men vi var mest utomhus. / The spring cleaning was all done at Donny's apartment, but we spent most of our time outdoors.
Massproducerade såna här filurer. / I mass produced these little fellas.
Och tog mitt första dopp! Sedan åkte jag till Amerika men det kommer i del två av detta återblicksinlägg. / And I had my first swim in the ocean! Then I went to America but I'll show all that in part 2.
---
Jan Lööf & Beatleskväll.
För ett par dagar sedan var jag på göteborgs konstmuseum. / A couple of days ago I visited the Gothenburg art museum.
Det är en utställning med Jan Lööf där Han gjorde t.ex. skrotnisse och en massa andra på 70-talsbarngrejer.
/ I went to an exhibition by Jan Lööf. He made a lof of famous books and tv shows for kids during the 70's.
Jag har alltid älskat hans bilder / I've always loved his illustrations.
De hade orginalprylarna från inspelningen av skrotnisse. Fräckt. / They had the original pieces from the tv show "skrotnisse". Awesome.
Sedan var det dags för beatleskvällen!  / Yesterday we had the beatles night!
Vi åt en hel del frukt och lyssnade på i alla fall fyra hela beatlesalbum.
/ We ate a whole lot of fruit and listened to at least 4 full albums.
Vi spelade galenpanna och diverse musikgissningslekar. / We played this game where you try to guess who you are through yes/no questions, and a couple of music quizzes.
Sedan var frukten slut och vi sa godnatt! / Later, we were all out of fruit and said goodnight.
---
Snön då?
Det är lite mörkt utan snön ändå väl? Ångrar nästan att jag önskade bort snö till vintern hela året. Bilderna här är tagna exakt idag förra året. Ikväll är det Beatleskväll med Mari & Minea. A hard day's night. Mer om det när den är klar.
Här får ni en låt med Trader Horne också: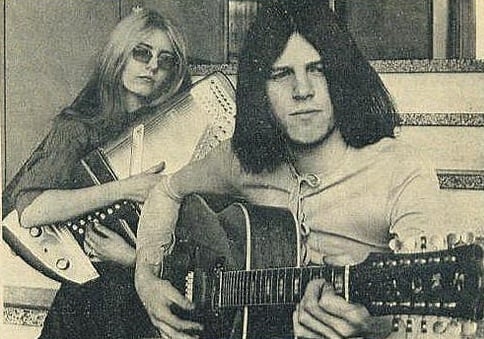 /
It's a bit dark outside without the snow, right? I almost regret that I wished for a snow free winter all year. Those photos are taken exactly this day last year. Tonight it's Beatles night with Mari & Minea. A hard day's night. More about that tomorrow, I guess. There's a song by Trader Horne above, too. They were cool.
---
Christmas eve.
Våran fantastiska plastgran med den traditionella julindiern är nu på plats. / My christmas eve outfit, our perfect plastic christmas tree and the traditional indian man.
Lite annat traditionellt julpynt. / Some other traditional christmas things.
Lite traditionellt julfirande hos släkten, t.ex. åka traktor kring granen.

/ Some christmas partying with my cousins, tractoring around the christmas tree.
Efter 100 kilo julmat kom tomten! / After eating tons of christmas food Santa showed up!
Resten av kvällen spenderade vi med att titta på disney framför elden. Har ni haft en god jul? / And the rest of the night we spent watching disney in front of the fireplace. Did you have a merry christmas?
P.S.
Fick en jättefin japansk 70-talsgitarr, en randig pyjamas och en livevinyl med White Stripes.
/ I got a really nice japanese 70's guitar, a striped pyjamas and a live record (vinyl) with White Stripes.
D.S.
---
Christmas in summers clothing (california dreamin')
Idag strosade jag runt hemma i sammetsmagtröja och sommarskor (finns på lb
här
).
/ Today I wore a velvet crop top and summer shoes at home (it's on lookbook here).
Min prylsamling och lite mig. Här är en bra låt med pixies:
/ My collected things, a little bit of me and a great song (by pixies).
---
Jul på systrarna på kullen.
Systrarna på kullen hade julmarknad så jag svängde förbi. Juligt. / The sisters on the hill had a christmas market so I came by. Very christmassy.
Jag åt en räkmacka på cafét också. / I had a shrimp sandwich at the café.
Vill ha den här glada tekoppkannan. / I want this happy teacup/pot.
Sedan blåste kjolen nästan iväg och jag gick hem. / Then my skirt was amost blown away and I walked home again.
---
Guggenheim (hästar i luften)
På den sista dagen av min New York-vecka var åt vi lunch på Guggenheim. / On the last day of my New York trip we had lunch at the Guggenheim museum.
Sedan smet vi in i utställningshallen genom bakdörren och kikade på utställningen. Den heter "All" och är gjord av Maurizio Cattelan. Det gick bra att bara se den från första våningen, eftersom den hängde i taket!
/ After lunch we sneeked in to the exhibition hall through the backdoor and peeked at the exhibition. It's called "All" and is by Maurizio Cattelan. It was okay to just look at it from the bottom floor, since it was hung in the roof!
Förlåt till alla er hästtjejer där ute men jag tyckte att det här var ett rätt fantastiskt konstverk. / Sorry to all you horse loving girls out there but I did believe this was a pretty amazing piece of art.
Sedan promenerade vi i solen de sista timmarna innan flyget gick. / Then we just walked in the sun the last hours before our flight.
---
Williamsburg
På torsdagen vaknade jag av att det var visselpipande demonstranter utanför en av bankerna i närheten. / On the thursday I woke up by whistling demonstrators outside of one of the banks nearby.
Sedan åkte vi till ett mysigt café vid Union Square och åt frukost. Gröt är gott. / Then we went to a cosy café near Union Square and had breakfast. Oatmeal is tasty.
Vi tog en promenad till Washington Square park innan vi tog oss tillbaka till tunnelbanan för att åka ut till Williamsburg på Brooklyn. Det var gulliga ekorrar i parken och ett väldigt bra band i tunnelbanan.
/
We took a walk to Washington Square park before we went back to the subway to go to Williamsburg, Brooklyn. There were cute squirrels in the park and a very good band at the subway station.
På Brookyn mötte jag Tori och hon visade oss sin favoritrestaurang. Sedan promenerade vi runt i Williamsburg. / On Brooklyn I met Tori and she showed us her favourite restaurant. Then we walked around in Williamsburg.
Det var soligt i Williamsburg. Mannen på bilden ovan satt och lyssnade på rock 'n' roll från sin bil. / It was sunny in Williamsburg. The man in the photo was sitting by his car listening to rock 'n' roll music.
Ännu mer bilder från Williamsburg (t.ex. Beacons Closet där jag köpte lite second hand-prylar). Williamsburg ser väldigt mysigt och sunkigt ut men är egentligen väldigt exklusivt - de som har råd att bo där bara vill ha det så. Lite kul.
/ Even more Williamsburg (e.g. Beacons Closet were I shopped some second hand thingies). Williamsburg looks very cosy and shabby but it's really very exclusive - the people who can afford it just wants to keep it like that. It's pretty funny.
Promenerade hem på Brooklyn Bridge också. / And I walked home over Brooklyn Bridge!
---
Freedom tower.
Onsdagen började med att jag åt frukost på Johnny Rockets (och försökte använda deras jukebox men den var död). När jag beställde bagel och frukt sprang de ut till ett bageri och en frukthandlare för att köpa det. Jättekonstigt. Men gott.
/ The wednesday began with a breakfast at Johnny Rockets (I tried to use their jukebox too, but it didn't seem to work). When I ordered a bagel and some fruit they ran out to a bakery and a fruitstand to get it. Weird. But tasty.
Sedan skulle jag göra något jättehäftigt, åka upp i den här grejen! Det är det nya world trade center som de bygger på ground zero. Det är inte alls klart ännu (ska bli mer än dubbelt så högt) och absolut inte öppet för folk, men min uncle jeff jobbar på port authority (de som har hand om bygget) så jag fick åka upp ändå. Det är redan högre än de flesta husen på manhattan men ska bli högst!
/ After breakfast I was up to something really cool. To go up in the new world trade center tower! It's not done yet (it's gonna be almost twice as high, and it's already higher than most houses in manhattan). It's not open to people yet, but my uncle jeff works at port authority (the people who takes care of wtc) so I could go there anyway.
Minnesmonumenen är rätt häftiga de med. / The memorial "pools" are pretty amazing too.
Sedan åkte vi upp i en skramlig bygghiss 77 våningar. Det var häftigt att vara så högt upp utan några väggar eller fönster. Vi signerade en av balkarna för vi hörde att Obama och några andra hade gjort det när de var där. Kändes bra, haha.
/ And then we went up in a noisy building elevator 77 floors. It was amazing to be that high up without any walls or windows. We singed one of the beams because we heard that Obama did that when he went. Felt good, haha.
Sedan tog vi oss ner på marken igen och gick till min favoritpark Bryant Park. Där drack vi varm choklad och tittade på grymma dansare.
/ Then we got back to the ground again and went to my favourite park bryant park, where we had hot chocolate and watched some great dancers.
---
Halloween.
När jag vaknade på måndagen såg det ut såhär utanför. / When I woke up last monday it looked like this.
Jag promenerade i central park som var i stort sett avstängd. Träden hade gått sönder pga snön. Sorgligt, men det var kul att se en massa nyhetsfolk ändå. / I took a walk in central park but it was mostly closed off. The trees were broken because of the snow. That's sad, but it was fun to look at all the tv-news people.
Sedan åkte vi till SoHo för att gå på halloweenparaden. Detta var min (inte så utklädda) klädsel. / In the evening we went to SoHo to see the halloween parade. This was my (not so halloweeny) outfit.
Under hela dagen stötte man på utklätt folk. / I met people in halloween costume the whole day.
Och så började paraden! Här nedan kommer en massa bilder från den + en film. / And the parade started! Following is a lot of photos and a video from it.
Sist men inte minst världens sötaste hund. / Last but not least the worlds cutest dog.
---
The snowstorm.
När jag kom fram till mina släktingars hus i New York såg det ut såhär. Halloweenigt men med oväntad snö. Det hade tydligen inte snöat på halloween där sedan 1925.

/

When I arrived at my relatives house in New York it looked like this. Still fall-like but with snow. It hadn't been snowing on halloween there since 1925.
Sedan åkte jag ut och handlade och när vi kom tillbaka såg det ut såhär! Det var nästan 20 cm snö och träden började falla för det blev för tungt med både löv och snö på. Strömmen gick och man kunde inte åka någonstans, ganska dramatiskt!  
/
When we came back from some shopping it looked like this. Almost a feet of snow and all the trees began to fall because it was too heavy with both leaves and snow. We lost power and couldn't go anywhere. Pretty dramatic!
Vi gjorde det bästa av Halloween och byggde ett snösnöspöke.
/
We did the best of halloween anyway and made a snowghost.
På kvällen tände vi ljus och hittade på spökhistorior och det blev rätt bra trots att vi inte hade elektrisitet och halloweenfesterna var inställda.
/
In the evening we lit candles and made up ghost stories and it was fine even though we had no power and all the halloween parties were cancelled.
Men dagen efter var det superkallt så vi bestämde oss för att åka in till manhattan istället. Där verkade allting fungera bättre.
/
But the morning after it was super cold so we decided to go in to Manhattan instead. Everything was working out better there.
Manhattan var galet (fast underbart) som vanligt. Vi promenerade på 5th avenue och tittade på skridskobanan på rockefeller centre, självlysande kläder och allmänt häftiga skyltfönster.
/


Manhattan was crazy but wonderful, as usual. We took a walk on 5th avenue and watched the ice skaters at rockefeller centre, glow-in-dark-clothing and other pretty store windows.
Lägger upp bilder från halloweenparaden i Greenwich village snart! / I'll post photos from the halloween parade in greenwich village soon!
---
NYC
Imorgon morgon åker jag till New York över mitt höstlov. Hälsar på släkten och gör lite andra skoj saker (det är ju halloween!). Ska fota allt.
/
Tomorrow morning I'm flying to NYC during my autumn break. I'm visiting my relatives and doing some other fun stuff (It's halloween!). I'll photograph everything!
---
Soma
Vi har skaffat en liten kisse som heter Soma. Hon är fantastisk!
/
We got ourselves a little kitten, she's called Soma. And she's amazing.
---
Höst och Black Books
I Trädgårdsföreningen i Göteborg såg det såhär idylliskt ut igår eftermiddag. Jag gillar hösten.
/ Yesterday The Garden Park in Göteborg looked this idyllic. I like fall.
Vi mötte en snäcka utan hus. En skalsnigel utan skal liksom. Det var konstigt, det kanske inte var så det var men  det såg ut så. Men den såg ut att vara helt okej.
/ We met a snail without a shell. One of those that are supposed to have one. It was weird, maybe it wasn't a snail but a slug but it looked like a snail. It looked okay anyway.
Sedan promenerade vi till Masthugget och gick på en Black Books-kväll.
/Then we walked to Masthugget and a Black Books marathon.
Och så en massa fåniga bilder så var kvällen slut.
/Here are some silly photos and that was the end of the night.
---
Sellin' a cape & a jacket
Jag tänkte sälja min fina trenchcoatcape. Någon som är intresserad? Emaila mig på malin.foto at gmail.com / I'm selling my trench coat cape, anyone interested? Email me at malin.foto at gmail.com
Och den här bruna manchesterjackan. En nykärlek som visade sig vara en lite dålig modell för mig som är så lång som jag är. Men annars är den perfekt. Den är en jacka från Holister, fast för längesedan. Fantastisk. / And this brown corduroy jacket. I'm a bit in love with it but it turned out to fit my badly since I'm so very tall. But otherwise it's perfect. It's from Holister, but from a long time ago. It's amazing.
Email me!
---
Håret bort!
Jag klippte det kort idag! Som ni ser ovan blev jag nöjd.
/
I cut my hair short today! As you can see above I'm happy about it.
---